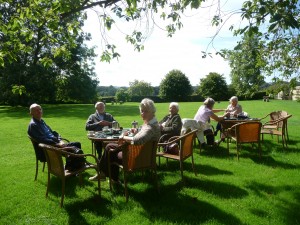 Time for Tea!
Our Cafe is open from May until the end of September 10.30am-4.30pm (last orders 4pm) selling hot and cold drinks, light lunches and delicious cakes. Please note that the cafe may close early during spells of bad weather.
Tables and chairs will be provided in the Orchard and in the Tithe Barn
We will be continuing with the following measures in the cafe:
Hand sanitisers are in place in the café and outside the toilets
Rigorous cleaning will remain in place
We politely ask that you follow these measures to ensure the safety of our staff and our visitors, particularly those who are vulnerable or nervous at this time.
Please do not take food or drink into the Garden.
Bourton House Garden Tea Room is run by Carolyn Coleman, Country House Cooking.
Contact: Carolyn Coleman E: country-house-cooking@hotmail.com
Comments from our Visitors Book and Trip Advisor …
"…cafe well run with excellent freshly made sandwiches and cakes, for my part the home made carrot cake was as good as I have ever tasted." Rob Cymru, September 2021
"a lovely cafe serving excellent tea, coffee and cakes." Peter M, September 2021
"There is a café in the gorgeous barn serving delicious home made cakes (I had a lemon drizzle)." RedThunderbird, August 2021
"The cafe, based in the stunning old tithe barn, was welcoming, the coffee very nice." Ian B, June 2021
"It would be remiss if I didn't mention the fabulous food we experienced in your cafe"  M Knowles, September 2020
"P.S. the coffee was excellent too!" D Hall, September 2020
"We rounded off our visit in the café.  The staff (in these covid times) were all friendly and cheerful and at the same time efficient (keeping tables sanitised etc.). We felt very safe during our visit and at the same time relaxed and comfortable" M & S Graham, August 2020
"Beautiful and peaceful gardens – delicious cake and tea!" Mr & Mrs Holland,  May 2019
"Very beautiful garden and great lunch!" Ms Hunt, June 2019
"Such a wonderful garden! We loved it! and also the cakes 🙂 " Brigitte and Ralf, July 2019
"Gardens wonderful – so much colour so late in season – and food delicious" Philip & Sandra, August 2019
"Inspirational garden. Delicious chocolate cake!" Rob & Louise Neal, September 2019